The Contribution of Actors with Intellectual Disabilities to the Training of Medical Students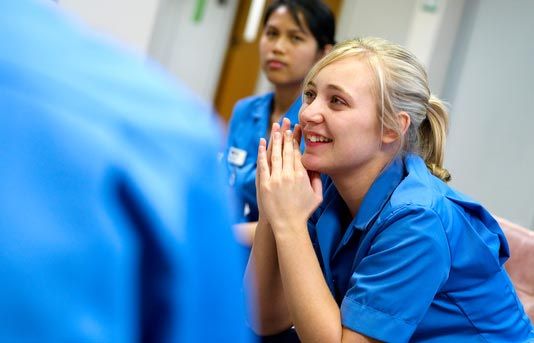 In the past few years, more than 1,000 future doctors at St. George's, University of London, have benefited from training by actors with intellectual disabilities.
A Collaboration between the Division of Mental Health, St. George's, University of London and the Strathcona Drama Workshop, London

A Thacker (UK), W Perez (UK), N Crabbe (UK), C McCluskey (UK), S Hollins (UK), O Raji (UK)
"Doctors must be good listeners if they are to understand the problems of their patients and they must be able to provide advice and explanations that are comprehensible to patients and their relatives" (General Medical Council, 1993: Tomorrow's Doctors, London GMC).

In the past three years, some 1,000 future doctors at St. George's, University of London, have benefited from training by actors with intellectual disabilities. The actors, known as "simulated patients", encourage second year students to practice taking histories and explaining medical conditions. "Simulated patients" help fourth year students rehearse health-screening procedures, prior to undertaking consultations in community based clinics for people with intellectual disabilities. They also assist with examinations including "finals" examinations, in which the "intellectual disabilities" component has equal value with other medical specialities. These programmes have evolved from experience over nearly 20 years of drama workshops being offered to medical students by actors with intellectual disabilities.
This programme's goals are:
To produce doctors who are skilled, sensitive, and confident in communicating directly with and managing the health needs of people with intellectual disabilities by: improving their ability to observe and understand non-verbal cues and developmentally innovative or idiosyncratic use of language; by practising techniques for checking patients' comprehension, for negotiating consent procedures, and by involving informants appropriately.
To demonstrate the importance of being proactive in attending to the health care needs of people with intellectual disabilities.
To challenge diagnostic overshadowing.
TRAINING METHODS
Simulated patient selection

Six adults with intellectual disabilities were recruited from a drama course run by the Strathcona Theatre Company in London. They include males and females, some of whom are African Caribbean.
The actors receive payment at the same rate as professional actors who do not have intellectual disabilities.
The Trainers
The actors take an active part in designing the characters of the "patients" they portray, their life stories, and their medical histories. They have control over whether they allow the medical students to touch them; and whether they need the medical students to speak louder, for example. These decisions are reflected in the instructions to the students. If students do not respect the actors' wishes, this is reflected in our assessment of them.
The Training Programme
Actors and trainers meet twice weekly for two-hour training sessions over the course of six weeks. Training initially takes place in the Medical School. Actors' skills in communicating information verbally and non-verbally are advanced as they develop their "patient" characters.
A typical two-hour training session in the fourth week of the six week course involved:
The team fed back on difficulties they had experienced in practicing. This resulted in discussions and adaptations to the scenarios.
The rehearsal of a clinical practice examination scenario:
a) The team commented on videotaped interactions. We decided to practice asking for the clarification of medical words.
b) The trainers took a lead in interviewing using as many different words and abbreviations as they could. Viewing the video later, the group identified occasions when challenges should have been made.
c) We discussed ways of asking for clarification effectively but courteously. The actors were worried about hurting the students' feelings.
d) Step (a) was repeated until some of the participants demonstrated their confidence in interrupting an interview. Some decided that they could not formulate a verbal challenge quickly enough, but felt comfortable holding up a hand to stop the student.
Two medical students took part in mock exams. After the exam interview, each of the participants (student, "patient", and "examiner") fed back their impressions.
During group discussion, several of the actors said that they felt sorry that they had to "give the nice students a hard time", e.g. by refusing medication.
The group visited the clinical cubicles where the examinations would take place. This familiarised them with the rather cramped conditions and the furnishings.
We have learned the importance of tailoring every training series to the personalities, interests, experience and abilities of all participants.
Most sessions are videotaped. Actors watch the videotapes immediately afterwards and feed back their comments.

Employment in Clinical Examination
Students are asked to negotiate consent for medical treatment. The task involves using accessible language, with visual aids if appropriate, to describe the intended treatment and establish the understanding of the "patient".
Employment in teaching sessions
The "simulated patients" assist students in practicing health screening procedures, prior to consultations in community based clinics for people with intellectual disabilities. The tasks generally include history taking, otoscopy, and blood pressure checks carried out on a one-to-one basis. The actors always meet with the students afterwards to feed back their impressions.
SOME CHALLENGES WE HAVE ADDRESSED:
The "simulated patients" did not ask spontaneously for clarification of medical terminology and abbreviations. This closed off the possibility of students becoming experienced in adapting their language. A lot of training time was spent in negotiating with the actors ways of halting interviews to show that they did not understand. Overcompliance is associated with some people with intellectual disabilities. Students are therefore assessed on their awareness of this and their ability to check for comprehension.
One of the actors is a diabetic. Initially she tended to give permission for a blood test before the student had had an opportunity to explain the procedure.
One of the actors gave consent too readily to a student whom he found attractive. Another was unduly critical of a student of a different ethnic background.
It is striking that the actors' need for support has reduced dramatically as their experience grows.

ENCOURAGING FEEDBACK AND DEVELOPMENTS
Students who have participated in training with the actors have:
expressed overwhelmingly positive attitudes and beliefs about the people with intellectual disabilities in medical interviews;
fed back their views and indicated that working with the actors was "the most valuable aspect of the course". Some students have said that they would welcome the opportunity to practice interviews dealing with more abstract lifestyle issues, such as difficulties in making friends and finding jobs;
become sufficiently engaged with the experiences of people with intellectual disabilities to prepare a related topic of their own choice to their peers; and
been dismayed by the extent of people's undetected health problems during the health screening.
The funding for recruiting, training and employing the first actors was provided by a Department of Health Shared Training Award. St George's, University of London now pays the actors for each session of employment.
Appendix:
The score sheet used by examiners on the Objective Structured Clinical Examination, Year 4, MBBS, shows the skills we expect of doctors-in-training.
Examiner's Instructions:
"Attempted" should be marked if the skill is exhibited inconsistently or the patient is unlikely to understand the candidate's language: e.g. Item 5: "You have a statutory right to withhold consent"
| | | | |
| --- | --- | --- | --- |
| | Not done | Attempted | Good |
| 1. Introduces self fully | 0 | | 1 |
| 2. Explains purpose of interview | 0 | 1 | 2 |
| 3. Addresses patient rather than carer/examiner | 0 | 1 | 2 |
| 4. Adapts language level | 0 | 2 | 3 |
| 5. Informs patient of her right to refuse | 0 | 1 | 2 |
| 6. Asks patient to reiterate what they understand | 0 | 1 | 2 |
| 7. Acknowledges patient's concerns/distress | 0 | 1 | 2 |
| 8. Uses non-coercive/non-judgmental terms | 0 | 1 | 2 |
| 9. Explicitly requests patient's views | 0 | 1 | 2 |
| 10. Discusses patient's objection(s) | 0 | 1 | 2 |
Total mark = 20
Candidate total =