Primary Care and Intellectual Disability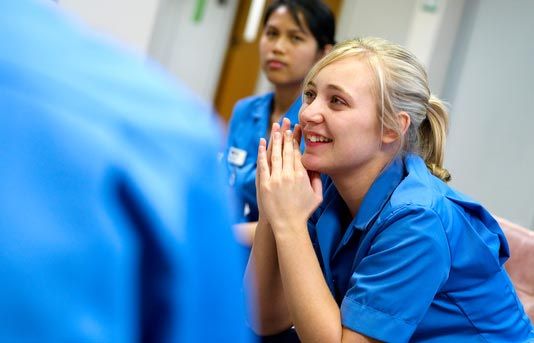 Advice for medical students and GPs
Dr Malcolm McCoubrie (UK) and Dr Ella Baines (UK)
1 People with intellectual disabilities (ID) consult their doctors more frequently than those without, possibly because of low thresholds to report symptoms by some carers. Generally however, health outcomes for people with intellectual disabilities are still not as good as for the rest of the population. Whilst life expectancy is increasing in people with mild intellectual disabilities, the mortality rate for those with moderate to severe intellectual disabilities is three times higher than in the general population (Tyrer 2009).
2 Many patients with intellectual disabilities are reliant on their carer to take them to see the GP. Barriers to accessing healthcare include automated telephone systems, appointment letters and crowded, stressful conditions in the waiting room.
3 It is estimated that the number of people with intellectual disabilities over the age of 65 will have doubled by 2020 (Janicki and Dalton 2000). Doctors will need to consider the chronic, age-related conditions experienced in the population as a whole and those which are more prevalent in those with intellectual disabilities, such as dementia. Conversely, whilst screening programmes for the general population are of borderline effectiveness and efficiency, those for people with intellectual disabilities are much more effective and are probably efficient too ('Improving Health and Lives' report, Department of Health 2010). It may be that recent improvements in life expectancy in intellectual disabilities are due to screening, but non-specific care improvements e.g. in burns and falls and also changes in attitudes by professionals to disability may have helped.
4 Routine annual medical examinations and box-ticking routines, although better than purely reactive care, strike us as far too rigid, and are seen by some as a hangover from institutional norms or an inappropriate transfer from item of service paid systems. Perhaps as aides memoires they have their place, but we prefer targeted enquiry, such as the St George's Health Check Questionnaire. Originally used by senior medical students doing their disability module, in its revised form it may be useful to clinicians as it is faster to use and can accommodate deeper enquiry than predetermined questioning.
5 Many of the frequently missed abnormalities can be explained by poor communication between doctors and patients; others by interpretive failure to link symptoms in a thoughtful and considered manner appropriate to the disability. Thus tinea pedis may present as a chronic gait disorder, gastro-oesophageal reflux as a chronic cough or agitation, and impacted ear wax as psychomotor retardation. It is important to consider any new physical symptoms and behavioural or emotional changes on their merit rather than simply attributing them to an individual's intellectual disability. Being mindful of 'diagnostic overshadowing' (Mason 2004) means that a patient will receive appropriate examination and investigation for their symptoms.
6 Psychological conditions and mental health problems are still missed in primary care – low grade depression and autistic spectrum conditions perhaps most frequently, with psychotropic drug side effects not uncommonly neglected. Somatisation disorder has been described, but prevalence rates in people with intellectual disabilities are not clear.
7 Dementia has been made a priority by the government in recent years and the Paper 'Living well with dementia: A National Dementia Strategy' was published by the Department of Health in 2009. Its aims are to improve awareness, diagnosis and care of people with dementia. People with intellectual disabilities have a higher risk of developing dementia compared to the general population. Those with Down's syndrome have a significantly greater risk and it is found at a much younger age ('Dementia and people with Learning Disabilities', Royal College of Psychiatrists 2009).
8 The most frequent physical abnormalities found by medical students (these findings are similar to those reported in the professional literature, and those from personal observations from primary care) from all types of intellectual disability:
(a) Impacted Ear Wax
(b) Obesity
(c) Constipation / laxative dependence
(d) Epilepsy
(e) Reflux oesophagitis
(f) Poor visual correction
(g) Skin infection
(h) Dental caries and periodontal disease
(i) Foot and gait disorders
(j) Drug interaction and polypharmacy
9 Some physical abnormalities are more common in specified conditions:
Angelman Balance disorder, widely spaced teeth and jaw prominence, hypopigmented skin
Down Congenital heart disease, serous otitis media, obesity, hypothyroidism, atlanto-occipital instability, Alzheimer's dementia
Fragile X Valvular heart disease, macro-orchidism, scoliosis, ataxia
Noonan Hypertelorism and ptosis, undescended testes
Prader-Willi Obesity, hypotonia, sleep disorders especially sleep apnoea
Rett Breathing abnormalities, constipation, foot disorder
Tuberous sclerosis Facial angiofibromata, hypomelanomata, epilepsy, connective tissue naevi, dental enamel pits
William Squint, aortic pulmonary and carotid stenosis, hypercalcaemia
10 Before a physical health check or indeed any non-emergency clinical intervention, a global formulation of the person must be made - any primary care input will be deeply flawed unless the person's current social functioning and their psychological interactions are both understood and appropriately incorporated. Carers may be asked separately about any current or longstanding problems and input from other healthcare professionals is noted, both past and current. Genetic and psychological test results are recorded. Always document the name of carers present and whether other agencies are involved in care e.g. Mencap, local Learning Disabilities team.
11 It is good practice to have this information recorded in the person's Summary, along with significant personal preferences; thus some people in consultation prefer a carer to act as an intermediary, whereas others most definitely do not. Analogous views on chaperone usage exist.
12 Doctors need to be fussy about recording informed and understood consent. It is also good practice to have a precise record of any relevant information documented in the Summary, along with advance declarations. Staff will be aware that consent has to be given to each intervention at the time it happens – old consents can only give an intimation of a former mindset.
13 Secretarial and reception staff should be encouraged to book rather longer than average for consultations for people with intellectual disabilities. Unnecessary stress can be reduced by offering appointments with the same doctor/nurse to aid continuity and familiarity. It is also preferable to arrange appointment times when the waiting room is at its quietest. People with ID often are distressed by repeated venepunctures and enforced immobility in X-ray departments; autopilot investigations done without consideration may exacerbate this distress.
14 Be very ready to draw explanatory pictures in consultation, and also to emphasise instructions by writing take-home simplifications. Enter these in the person's Health Action Plan if one is available. Leaflets with pictures and clear and concise wording are available from www.easyhealth.org.uk
15 Drug interactions and potentiations are more than theoretical in people with intellectual disabilities, particularly in those on anti-convulsants. Consider simplifying dosage regimes if polypharmacy is unavoidable. Palatable mixtures are often preferred to tablets and ingestion may be easier to confirm. Many pharmacies are happy to draw up diagrammatic or pictured dosage sheets to try and simplify complicated regimes. Dosette boxes can be useful in some circumstances.
16 Acute primary care and its recent changes should be no different for people with or without LD; delayed antibiotic prescriptions, advice on self care for simple self-limiting conditions and injuries, use of culturally acceptable formulations and parsimony with excessive investigation are equally appropriate.
17 Do not assume that specialised health professionals must inevitably be involved in care. A mature well trained cook can alter low fibre diets of the constipated, an experienced shoe fitter can deal with fallen arches, and a hairdresser can advise on dandruff. Beware of possible exploitation (such as financial) and manipulation. Consider lifestyle advice such as increasing exercise or 'five-a-day' fruit and vegetables.
18 People living in group homes may share and swop pathogens. Not just the usual ones like scabies and norovirus, but less obvious ones like Hepatitis B, tinea, staphylococci and helicobacter. Many would advocate screening for the latter at regular intervals.
19 Primary care's advocacy role may be even more important here; no person with intellectual disability should have to accept a malunited fracture, a second choice drug intervention or a simpler surgical intervention that a person without intellectual disabilities would reject. A GP may need to make very determined representations to secondary care colleagues, or even consider involving the local Independent Mental Capacity Advocate if it seems that exclusion is happening.
20 If Health Checks are undertaken and you are not compelled to use your Trust's all-preferred questionnaire, you may want to consider a targeted approach:
(a) Record basic biographic details – DOB etc. PMH including allergies here
(b) Describe the person in a 360˚ manner
(c) Record any obvious unmet needs, incorporating stated carer concerns
(d) Record immunisation history and any previous screening including Cx smears
(e) Note theoretical condition-associated risks
(f) Undertake/arrange basic check – BMI, mobility, pulse, BP, hearing, visual acuity/fields, urine dip test
(g) Inspect previously completed health questionnaire (see below for example)
(h) Perform targeted or even full physical examination. No entry here is permissible
(i) Arrange any investigations, referral, further opinion
(j) Arrange follow-up review and liaison with others
Offer a written health action plan which can be taken to each health appointment and amended by the patient or carer as needs or questions arise.
Further information can be found on the Royal College of General Practitioners website (www.rcgp.org.uk). 'A Step by Step Guide for GP Practices: Annual Health Checks for People with a Learning Disability' was published in October 2010.
http://www.rcgp.org.uk/pdf/CIRC_A%20Step%20by%20Step%20Guide%20for%20Practices%20(October%2010).pdf
| | |
| --- | --- |
| THE ST. GEORGE'S HEALTH CHECK QUESTIONNAIRE | |
How are you feeling now?


Have you any long standing health problems?
If yes, give details


Are you allergic to anything?
If yes, give details


Do you need help to go out?
If yes, give details


Have you seen anyone for help with worries or feelings recently?If yes, give details


When did you last see your own doctor?


Do you take medicine or tablets from the doctor regularly?
If yes, give details


Do you buy other medicines or drugs?
If yes, give details


Do you smoke?If yes, give details


Do you drink?If yes, give details

Have you had injections?Tick boxes, putting dates if known


As a child


TB


Hepatitis A/B


Tetanus


Flu

Pneumonia/Pneumococcus


Has anyone you know died recently?Give details


Have any near relatives died young?Give details if aged less than 60

If you have problems in any of these different areas, tell us about them


Moving about

Headaches


Hearing


Seeing


Teeth, Mouth


Skin, Hair, Nails, Feet

Breathing, Coughing

Heart Thumping, Chest Pains


Eating, Indigestion


Going to the toilet (Bowels, Bladder/Waterworks)


Weight – losing it or putting it on


Fits, Turns or Funny Do's


Tiredness


Aches, Pains or Soreness


Women's healthBirth Control, Periods, Discharge


Most recent Smear test?(Women 18-70 years old)


Most recent Breast Test (Mammogram))?(Women 50-70 years old)


Men's healthLumps and bumps down below


Is there anything else you think we should know?Mention it here
This article, which was first published on the site in 2003 as "Common Health Problems seen in Primary Care", was revised and expanded in 2011.