Life on the ward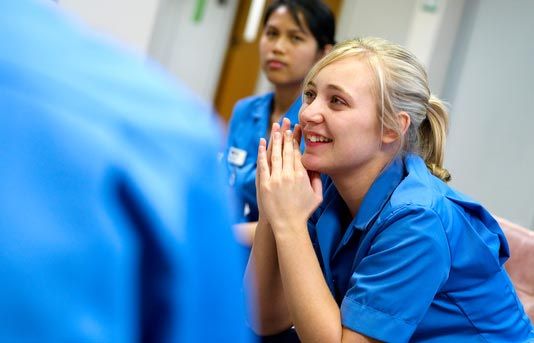 This article is based on hospital experiences described by people with learning disabilities and includes suggestions provided by them as a result of sharing their ideas and experiences.
Peter Cronin and Liam Peyton, Service User Consultants, Estia Centre, South London and Maudsley NHS Foundation Trust, UK, supported by Steve Hardy, Consultant Nurse in Learning Disabilities, Oxleas NHS Foundation Trust, UK
Going into hospital can be a frightening experience for anyone. If you have a learning disability it can be even worse. People with learning disabilities might have problems communicating with doctors and nurses. They might not understand what is happening. Recently there have been some horrible reports and inquires about the care of people with learning disabilities. The Confidential Inquiry into the Premature Deaths of People with Learning Disabilities (CIPOLD, 2013) found that people were dying younger than the rest of the population, this is not right and needs to change. The BBC Panorama programme found that people with learning disabilities and challenging behaviour were being abused, were miles away from home and there was too much restraint. Some of the Winterbourne View Hospital staff went to prison for this.
Over the last ten years we have done a lot of work to help improve health services for people with learning disabilities. Some of this work has involved training staff like doctors and nurses, helping write professional guidance and information leaflets for people with learning disabilities. During this time we have spoken to lots of people with learning disabilities about their experiences. This article is based on those experiences and provides tips on supporting people when using health services and treating people with learning disabilities as equal patients and citizens.
Before the person comes into hospital
· Find out as much as you can about the person, like:
o How they communicate, this might be words, pictures, symbols, sign language, body language, noises.
o Find out about what they like and don't like.
o Hospitals can be frightening, find out what makes someone anxious and ways to calm them down.
o Sometimes people with learning disabilities use their behaviour to communicate. Sometimes this can be challenging behaviour, so find out what the behaviour means for the person.
o How does the person tell you if they are in pain, it could be they can't talk, they might tell you by behaving differently.
"I got anxious about going into hospital. My keyworker took me to visit the ward before, this helped me"
· Information
o Give the person information about the hospital, the ward, the routines and what will happen.
o Make sure they know why they are coming into hospital.
o See if the person can visit before they come in, this might make them feel less nervous.
"Every service should have an information leaflet. It should be easy to read"
· Who can help
o Their family can help.
o They might have a community nurse or social worker or keyworker.
o Ask if the person has a hospital passport, personal health profile or communication passport, these will have lots of useful information.
"I have a health passport. It has lots of important information about me. I take when I see the doctor"
Talking to the person
· Always remember you are talking to the person first. If the person doesn't understand you could then ask their family or support worker.
· Don't rush the person, they might need more time to answer, be patient.
· Respect what the person says.
· Don't be rude.
· People communicate in different ways.
· Use easy words, no jargon.
"I went to see the doctor and he spoke to my keyworker and not me. This really upset me. It's my health, he should talk to me first"
On the first day
· Information
o Everything should be easy to read and have pictures or photos.
o Make sure the ward has an information pack.
o Read through the pack with the person; don't just leave it with them.
o Show them around the ward. You might have to do this more than once. Important places are the toilets and the telephone.
o Tell the person about the visiting times.
o The person needs to know what happens on the ward and when do they happen, like lunch, when the doctor comes.
o The person should meet their key nurse and doctor.
o Tell the person who to talk to if something isn't right or they need to make a complaint.
"We need to know what's happening to us. You shouldn't keep us in the dark"
Tests and Treatment
· People need information that is easy to understand.
· If you are going to do something to the person you need to tell them:
o What it is
o What will happen
o Where it happen
o When it will happen
o Who will do it
o How long it will take
o Will it hurt
o Are there side effects
o Are there any other options
o What can the person do to help
o Will it work
o What might go wrong
o What happens afterwards, like aftercare
· The person should know that they have a choice.
· People should be able to make their own decisions, you should respect this.
· Some people might have problems with big decisions, they might need help.
"I help train staff about the Mental Capacity Act. It's important that people are helped to make their own decisions"
We hope this information helps services to deliver better healthcare to people with learning disabilities. We have exactly the same rights as any other person but you may need to make some changes to the way you work to help us.
Here are some more places you can find help and support:
British Institute of Learning Disabilities
Easy Health
Lots of accessible resources
Foundation for People with Learning Disabilities
http://learningdisabilities.org.uk/
Royal College of Nursing Publications
Look for these publications:
Dignity in healthcare for people with learning disabilities
Meeting the health needs of people with learning disabilities
Mental health nursing of people with learning disabilities
http://www.rcn.org.uk/development/publications
This article was first published on this site in July 2014.