Improving Hospital Experiences and Ensuring Safer Discharges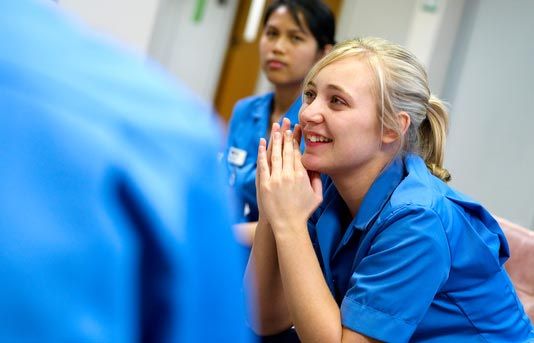 Interview with Jim Blair, Consultant Nurse in Learning Disabilities, by Alexander Chiu, Final Year Medical Student at St George's University of London, and Dr Jason Tsang, Foundation Year 1 Doctor
It is important to be clear that when the term learning disability is used in the hospital it clearly refers to the criteria that would constitute an intellectual disability, hence both terms can be used interchangeably as they both follow ICD-10 definitions.
1. What is the importance of safe discharge for patients with intellectual disabilities and how do you ensure safe discharge?
A lot of the recent reports from 2004 onwards, investigations and inquiries, have highlighted discharges as being highly problematic. They tend, if they're wrong, to lead to significant harm for the patients and for the carers. Sometimes people are discharged too quickly when investigations have not been completed, and when issues with health problems haven't been picked up. For example when someone has a stomach-ache but has limited verbal language, the answer can be 'see your GP,' when no proper investigations have been made. A lot of those issues are around the capacity to consent. It's also about having someone in place, which we have here in St George's – I can block discharges I don't deem to be safe. My decision is final on that. If they're medically fit, but I don't think they're safe to be discharged, then they won't be. It's a very different approach, other hospitals don't have that.
2. What are the roles of Consultant Nurse in Learning Disabilities and what expertise do you have?
I have a number of roles. The key thing about safe discharges is really, my expertise and knowledge of intellectual disabilities, what the person can and can't do in the community, means that if someone isn't safe to be discharged, it's very important to keep them here and make sure the discharge is safe, well planned, and engaged with by the person with intellectual disability, family/carers, whoever is supporting them, and the community clinicians – so that we make sure that problems don't arise if we can avoid them. What's really important about my role is that it assists staff. I help in the complexities where they are anxious about things like capacity and consent. My role is about giving guidance and modelling behaviour and how to ensure lawful and safe practice.
3. What has been your experience in hospital discharges for people with intellectual disability?
When discharges from hospital have not generally been thought through effectively, and not well planned, they've led to an excess of people coming back in – like a ping pong effect. This is extremely costly, primarily for the individual. Also, it's an extremely unwise use of resources. Poor discharges have led to frequent readmissions. Here at St George's, I delay discharges to get to the bottom of things. With one person, he was spending half of every month in hospital due to poor management of diabetes, we planned his discharge and he has not come in for a diabetic related issue for over a year. It means a significant gain in quality of life for him and also a gain of hundreds and thousands of pounds for the hospital.
4. What factors make up a safe discharge?
It's made up of clear planning, right from the point of admission, and we've set up a 'Getting Discharges Right for People with Learning Disabilities Policy'. Within that, it's a stage by stage, day 0 to day of discharge, and at each stage it's telling staff what to do, who to contact, as well as to involve the community learning disability team, so they know what's happening to inpatients... and just having a clear link with services so people understand and are sure of what's happening to the patient as they go through the hospital system. This can aid safe and early discharge... but you must link up with all clinicians, to create a safety net, if you like.
5. What are the reasons for you to block discharges?
I'll give you a couple of examples. We had a patient with swallowing problems, who was bubbling up liquids, and regurgitating food, but we didn't know the cause. The speech and language therapist was concerned, having done a bedside assessment, that there were significant swallowing problems, that would only be able to be picked up on an investigation called video fluoroscopy. We only do video fluoroscopy on a Thursday, but this was on a Tuesday. The question was, do we discharge this person? I blocked the discharge, and we decided to keep them in until Thursday, and we found significant damage to the oesophagus and to the epiglottis. That person was then required to have a PEG which is a feeding tube to the stomach put in. This avoided food going down the wrong way into the lungs causing a serious chest infection.
So it's about safety. It's also about ensuring that we have a safe package back at home. For example, if somebody's health status has changed so significantly that they need a change in their package of care, we would need to do a Health Needs Assessment, and actually look at whether the package of support in the community meets this person's needs. If not, is it best for them to stay in hospital a bit longer and have a review in order for the right package of care to be put in place? Recently, we had a patient on the intensive care unit, who had a number of seizures, which were peculiar for him, so I wanted him transferred when he was medically fit from Intensive Care Unit to neurology ward, for a full assessment. That took place, and then he went home. It was only two extra days, but it did rule out a lot of issues by way of extra blood tests and other assessments etc.
6. Are there any protocols you can follow for safe discharge?
Well unfortunately, there aren't any protocols specifically for people with intellectual disability, but there is a discharge policy within the hospital. What we've done here is, set up 'Getting Discharges Right'. This was made across four different hospital wards: orthopaedics, neurology, care of the elderly and surgery. These are four very different key disciplines, which all have senior discharge coordinators and senior clinicians. We wanted senior members of staff to guide the junior staff members in managing discharges of patients with intellectual disability. The seniors and myself can help junior staff to make the process smoother. The guidance for discharging people with learning disabilities now sits alongside the hospital's intranet discharge policies, as appendices on the site as well as on the learning disability specific pages.
7. Is there anything else that can be done to ensure safe discharges?
Yes. It is important to link with the community learning disability team. A variety of professionals including psychiatrists, psychologists, nurses, physiotherapists, social workers, speech and language therapists and occupational therapists. Family and the individual are paramount. If the person does not feel able to go home, for whatever reason, I always try to explore that. Safe discharge is only safe if everyone is involved and if everyone is aware of it and you are meeting the person's needs in a clear manner. Everybody should know what to do if something goes wrong. Also, information should be really simple. Sadly I've been involved in investigations of other services, where the first problem is actually that the discharge letter was so badly written, and used so many medical terms that the care home, which do not have staff qualified in nursing, didn't understand what to do. That was the beginning of a downward spiral. What we encourage is that the discharge sister on the ward and the doctors, if possible, are able to meet with the person and carers, so we get a very clear plan of discharge.
8. Is there anything that can be done to involve the people with intellectual disabilities in their own safe discharge?
Talking to them, engaging with them, and using the hospital communication book that is in each ward. It has one page that is really useful, such as the pictures of faces portraying happy, sad, pained images etc…
9. What should be the approach of hospital doctors in treating patients with intellectual disabilities?
What people genuinely need to do is relax a bit more, to take a step back and not just see the disability. The disability needs to be considered, but it is not the total. Often discharges go wrong when we exclude the very people who know the person best. Carers and parents/ friends are often very able to assist, and very willing to help. They are not the problem but the solution. For junior members of staff what they need to do is think about engaging the whole person, and how to engage those around them who love and support them. They are the experts on the person. It's about understanding. Being in hospital is a stressful time and a frightening time for the person with intellectual disability. Someone's disability will appear more severe when they are in hospital. This is very common, especially in places like the medical assessment unit where the patient first gets treated within the hospital.
10. What else can be done to improve the experience of patients with intellectual disabilities in hospital?
I think it would be great to have a named member of staff on each ward who is skilled up and can work to a level of understanding of what the important issues are for patients with intellectual disabilities. Preferably a nurse because they are around a lot more. That would be helpful, as they would work alongside me. Education is another field, I constantly provide teaching on induction and mandatory Trust training as well as bespoke sessions tailored to meet the needs of a specific setting e.g. Accident and Emergency, Pre-Operative, Max-Fax. This is essential in enhancing the care and treatment a person receives and experiences.
Another thing that I think is very important is having more people with intellectual disabilities involved. I sit on a committee that I am accountable to, and many of the key members have intellectual disabilities. That feeds in to the many other committees, such as access committee and many services within the hospital such as the porters. The more you see people with intellectual disabilities around in the hospital doing jobs and activities, it bursts the myth that such individuals can't do things. Their experiences are far more important than what I have to say.
11. Can you tell me more about the Hospital Passport Scheme and its role in the experience of a patient with intellectual disability in hospital?
The Hospital Passport was introduced in 2008 and had been adapted from one developed by Gloucester NHS Primary Care Trust. The passport contains vital information, such as how a person expresses pain, communicates, past medical history, allergies, and their likes and dislikes, to assist clinicians in how to care for people with intellectual disability appropriately in the hospital. It was developed with people with learning disabilities and health practitioners from Merton and Wandsworth Community Learning Disability Teams in South West London in partnership with staff in the hospital. Over 60% of patients attend St George's hospital with a passport, others who did not know they were coming into hospital bring them after they have been admitted, and many bring various versions of the passport they have created themselves.
The passport is completed by an individual with learning disabilities and their family, carers and supporters. Passports provide a picture of the whole person by including information that is not exclusively about ill health. The passports are owned by the individual and they take them with them when they leave the hospital.
The hospital passport is an essential part of it. It has without doubt saved people's lives. It is a very good tool. I'll give you an example. We had a young man in Medical Assessment Unit; his carer did not know why he was nil by mouth, and I went to speak to the medical consultant who was on the phone. I asked her why the patient had been put on nil by mouth, she replied because it said in the passport that he regurgitates. I wanted an emergency dysphagia assessment. The key thing about the passport is that it enables people to feel in control and engaged in their health, that they participate in it. A health professional should not fill in the passport, we are not the experts – they are by their lived experience. It really does mean that it's a two way process of care.
12. Should the carers themselves be trying to help them fill in the passport?
The carer and the person should fill it in. It's important to give the passport to the individual directly. You can see in the non-verbal interaction that the person is pleased that they have been given something. The fact that they can't fill it in is immaterial, they've been given it. Also, you are signalling to the carer, that you are engaging with the person first, and then the carer.
The key thing now is that we have got the Disability Discrimination Act and Equality Act which we have to comply with. The legal requirement is for us to make reasonable adjustments for people with disabilities to access our service. The adjustments that we have made are that everyone with an intellectual disability will get a hospital passport, they'll get a first or last appointment on a list to minimise waiting time for that person, there will be a bed available for their carer and they will be offered food and drink. We have the hospital communication book as well as information available on our website.
13. Is it only the patients at St George's Hospital benefiting from the Hospital Passport Scheme?
The hospital passport is now used very widely in Australia, Europe, Canada and throughout the UK. There are no copyright issues, it is completely free. It has recently been launched in Norway having been translated by colleagues there.
14. St George's is in a very fortunate position to have you as a member of the Multi Disciplinary Team and that there are policies that have to be adhered to within this particular trust. For other trusts, is there a national document which they can access with regards to safe discharge?
A key problem identified by many recent reports and investigations (Death By Indifference, Six Lives, Six Lives Progress Report) has indicated that problematic discharges had been ill-conceived at best or not considered at worst, or did not involve those who knew the patient best. The guidance on discharges developed at St George's ensure safer, more effective and timely discharges. They provide clinicians responsible for co-coordinating discharges with a clear route by which to map "The Hospital Journey" and return to the patient's usual living environment or a more appropriate setting which reflects changes in their needs. I think that will take it forward.
If we get things right for people with intellectual disabilities, we all benefit. People become better clinicians, and patients receive a better service.
This article was first published on this site in 2012. Reviewed in 2019, content continues to be relevant.